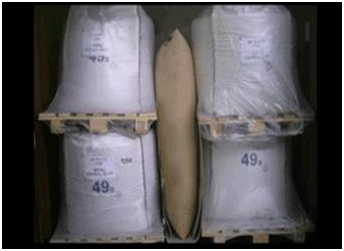 What are Dunnage Bags?
Dunnage bags are also popular by the name of air cushions or airbags. These are used to stabilize and secure any cargo. The dunnage bags were invented in the year 1970. These bags basically come into place as a lucrative and convenient cargo stabilization in the ocean going vessels, sea containers, and closed railcars. So, the main intention behind developing the dunnage bag was to secure the road trips. This special invention was able to lower approximately 25% of the road accidents involving trucks by offering cargo security!
How it works?
The technology behind the dunnage airbags is the backbone of its working. They consist of a few closed chambers which are made up of air-filled elastic films. When the truck or the vehicle is at rest, the static load generated by the package contents lie upon the cushioning. At the moment the load becomes dynamic, the extra load is absorbed by the cushion.
The amount of the inflation air can be customized according to the properties of the package contents. Generally, the dunnage bags are available in different sizes and designs. The cushioning styles can also be varied from edge and corner cushioning to tubular cushioning.
Benefits of Dunnage Bags:
* Used to protect and stabilize cargo.
* They are positioned void between any cargos.
* Can be used in every sort of transportation.
* Almost every kind of cargo, including palletized cargo, barrels, break bulk, and
crates can use dunnage bags.
* Safe to use on both the ends of transportation (shipping and receiving).
* Waterproof.
* Easy to install
* Inflate quickly with the compressed air of the cargo's air system.
* Its size is determined by the void.
To have all these advantages from the airbags, people should know the proper usage and placement of the dunnage air cushions. They should not be used against any non-rigid surfaces.
Types of Dunnage Bags:
The dunnage bags can be of many types according to its usage, such as
* Paper dunnage bags - They have mainly two components. The inner component
contains a polyethylene bag. And, the outer component is made up with high-quality
and low weight craft paper.
* Woven polypropylene bags - These are extremely durable and can easily be used for
every wet and dry condition. These are great for heavy loads and more elastic than
the previous one.
* Polypropylene paper-laminated bags - These offer higher resistance to moisture and punctures.
Understanding the safety issues of the dunnage bags, all of its manufacturers provide high-quality and durable products to the industry. The manufacturers should thoroughly adhere to the standards and norms laid down by the industry while producing the dunnage bags.
Conclusion:
Dunnage bags have secured the cargo travelling.