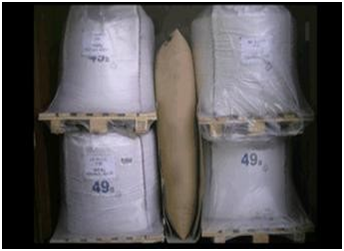 It is fundamental to know that most containers will shift to some extent because of the movement during transit. There are some voids between the pallets resulting in unwanted movement, no matter which method of wrapping you have applied. Hence, the role of proper and effective packing to protect cargo shipments need to be understood  by transport companies to avoid any damages, loss and business disruptions.
Effective way to provide protection to your sea container shipments
Although there are many methods to protect goods during transit such as tie-downs, strappings, fasteners, blockers and bracers, most of these methods have been  proven to be inadequate to prevent  damage inside a sea container. Hence, a good method needs to be enforced to prevent the damage to your shipments along with any possible injuries to workers while loading and unloading the cargo.
Nowadays, Dunnage airbags are the most effective and economical way to fill gaps on your sea container shipments. These bags are specially produced with closed chambers made from elastic-plastic film and then protected by layers of paper, polypropylene, or woven material which makes the dunnage bags remarkably strong and reliable. Dunnage bags manufacturer supplies these bags in different sizes depending on the needs of shipment, so it is important to pick the appropriate size in order to ensure that your shipment is adequately protected..
Benefits of using protective Dunnage airbags
They can properly secure your sea container shipments which allow you to eliminate unhappy customers, damage costs, and interruption in productivity that result from damages caused during transit. To prevent any movement due to gaps between the cargo loads in sea containers, dunnage air bags are installed between rows of cargo.
Dunnage air bags are useful because they restrict cargo loads from unwanted movements and help to absorb shock. Here are some of the main benefits of using dunnage air bags:
Protection against damage due to shifting cargo loads : Dunnage airbags can easily fill up the empty spaces that reduce the chance of any movement during transit and also absorb shock and vibration to prevent any damage.
User friendly: Dunnage air bags can be easily installed and inflated in a matter of minutes and require minimum physical labor for quick loading. These bags can also be deflated and removed quickly which allows for speedy and fast unloading.
Reusable: Dunnage air bags can be used a number of times with the same level of performance after following the proper handling procedure as described on the product. This makes it very cost effective.
There are a number of companies in Malaysia who are offering high quality Dunnage airbags which are lightweight, versatile, reliable, effective and economical to use in the transportation industry. Dunnage bags supplier Malaysia havetaken into account the following crucial points-
• They  offer a wide range of products that are essential requirements for safe and secure shipment of cargo over long distances.
• They can also customize the products in respect of size as per the special needs of the customers.
• Dunnage bags manufacturers  offer products which are designed in compliance with the stringent industry standards.
• They can ship their dunnage bags to their customers worldwide  .
• They are capable enough to meet the bulk as well as urgent demands of the clients within the stipulated time.
• They provide productsto the market at the most competitive prices.
Hence, we can conclude that in this competitive industry one should surely invest in dunnage airbags to avoid the damage of valuable sea container shipments and prevent the unwanted pallet movements during the transit in the most effective manner and at most cost effective price.