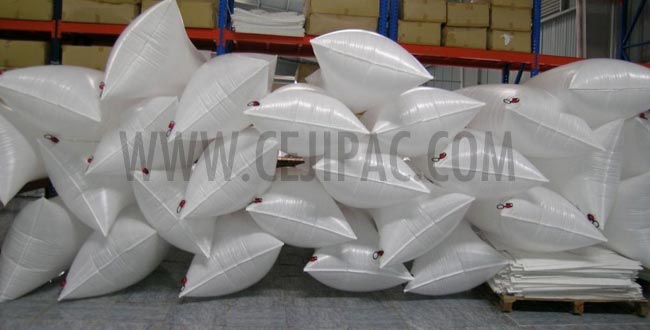 Dunnage air bags, which are commonly known as air cushion and inflatable bags, are paper bags that are constructed with 2, 4, 6 or 8 layers of paper. These are also equipped with an internal bladder of polyethylene. These bags are used for the movement of cargo loads in various trucks and overseas containers, as they stabilize and secure the movement of cargo during the transportation. These bags are inserted into the space available inside the container trucks and are then inflated with the air of appropriate level. These bags are inflated so that they can push away the load against the walls of the container, which in turn stabilises the load and prevents the risk of any damage during the transit.
Before the use of dunnage air bags, wood foam, and wood trays were widely used to fill the empty spaces between the goods. However, these materials were not cost-effective and were not able to fully protect the cartage. Also, due to increasing demand for environmental protection, the use of woods and foam materials was discontinued.
These bags consist of two major components viz. the body of the bag and inner plastic liner. The body of dunnage bags is made up of kraft paper, which provides the strength to retain the pressure of air and the inner plastic liner retains the volume of air. It also prevents the air leakage.
Some of the advantages of dunnage air bags are as follows:
• Economical: These bags are considered economical when compared with other techniques available in the market.
• Speed: These bags can be installed in a matter of few minutes with a little physical effort.
• Damage Protection: The movement of loads is the biggest cause of damage during the shipment. The use of dunnage air bags reduces the risk of such damage by providing stability to the load.
• Easy removal: These are easy to unload at the destination.
Due to the various benefits of dunnage air bags, their demand has been scaling constantly over the past few years. This, in turn, has provided golden opportunities to the dunnage air bag manufacturers to earn huge revenues and maximise their profits. However, in order to gain a competitive edge in the market, they should ensure that the air bags supplied by them are of the best quality. For that, they should ensure that all the materials are sourced from the reliable vendors in the market, who make use of the advanced technologies and top-notch grade materials.